Goooooooal! PitchBook unveils VC European football league rankings
December 5, 2014
One of the most popular sporting events in the world, the UEFA Champions League, continues this month. But instead of letting the European football teams settle matters on the field, we decided to use the PitchBook Platform to see how the English Premier League, German Bundesliga and other leagues stack up when it comes to venture capital. Building off our successful VC college conference power rankings in the U.S., we have built an interactive data visualization that allows you to compare VC financing metrics of the top-flight European football leagues in England, Germany, France, Italy, Spain, Belgium, Switzerland and Sweden based on deals in their respective countries.
Here are our rankings based on completed venture financings from 1Q 2012 through 3Q 2014:
Posted below is a snapshot of our interactive data visualization, which allows you to track the locations of VC financings and also filter by league or industry vertical. Click here (or on any of the images) to interact with and customize the data.
You can share and export what you find with friends and coworkers—perhaps an overzealous fan in your office—and feel free to let us know if you have any feedback at research@pitchbook.com.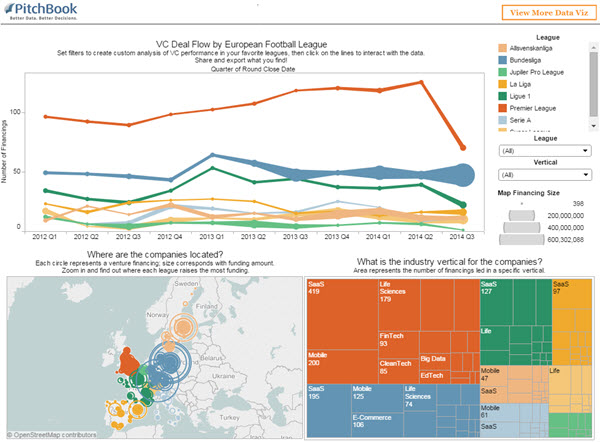 Note: It is recommended that you use a PC, laptop or tablet when viewing the interactive chart.
As a quick example of what you can do with the data, let's take Germany for example. Not only is the country the reigning World Cup champion, but the Bundesliga has already qualified three teams to the UEFA Champions League Round of 16: Bayern Munich, Borussia Dortmund and Bayer Leverkusen. You can tag only the German Bundesliga in the drop-down list and zoom in on the interactive map to see where the country is getting its VC financings.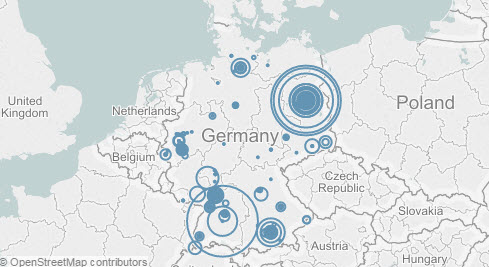 If you'd like to see more of our data in action, get in touch to see how the PitchBook Platform can help your business. Request a demo here.