The state of PE investment in U.S. healthcare
October 29, 2014
Maybe it's the advent of cold & flu season, or the steady approach of 2015 bringing the Affordable Care Act's employer mandate into effect, but healthcare (and, as always, private equity) has been on our minds, prompting a look at how PE investment in the U.S. healthcare scene has fared thus far in 2014.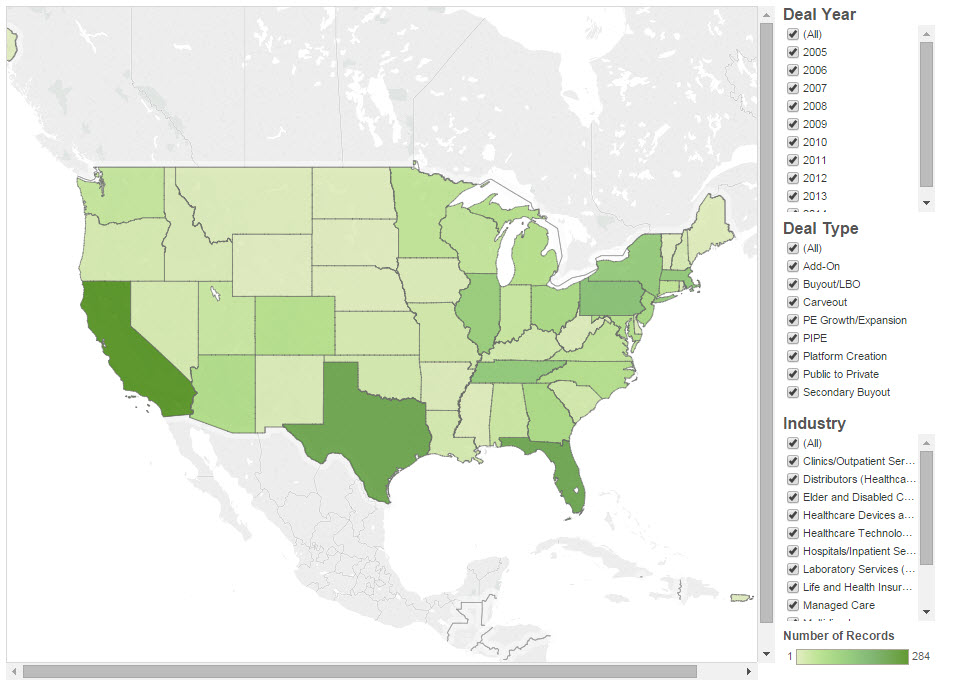 Click here on the image above to interact with the data.
The ACA's implementation has already effected some sizable changes in the healthcare industry itself: according to The New York Times, the number of Americans without health insurance has dropped by 25%. That substantial increase in consumers has spurred growth in the healthcare industry as a whole, with insurance in particular benefiting even as hospitals face a decline in Medicare payments.
PE firms have taken note, with the first half of 2014 exhibiting record rates of capital invested (this according to an upcoming 4Q 2014 Healthcare McGladrey Quarterly Deal Flow Profile; stay tuned for its release in the PitchBook newsletter next week). 3Q has seen a bit of a decline in deal flow and value, yet the complexity of healthcare transactions, as well as rising valuations and competition from strategics are most likely prolonging deal closing times. The healthcare services segment is on pace, however, to see more PE activity this year than last, and accordingly, we decided to make that industry group one of the primary focuses of the data visualization above. What with the aging U.S. population and expansion of insurance coverage, healthcare services providers of all kinds are enjoying more business, becoming increasingly attractive to PE firms. Add-ons are particularly popular in this space, with PE firms more than happy to consolidate and cut cheaper deals, rejiggering their focus toward the middle market rather than competing with high-bidding strategic buyers. Of course, as noted earlier this year in the National Law Review, companies that are added on by PE firms could be considered part of a controlling group with the acquiring holding company, making them subject to the employer mandates of the ACA. Yet still, 2015 bodes well for activity in the healthcare industry overall; its growth potential, particularly if overall enrollment rises, still outweighs the burden of its regulatory hurdles.
For more on the healthcare space, check out the upcoming McGladrey report, and as for the data behind the visualization, click here to request a demo and explore the PitchBook Platform.
Data visualization courtesy of Andy White