'Wear' are VCs looking now?
January 15, 2015
Hot off heavy hype at CES 2015, wearables are boring full steam ahead into the new year; and with Apple Watch rumored to debut in March, the wearables space is growing increasingly competitive. While venture capital investment in wearables startups has been on the rise for a few years, activity shot through the roof in 2014, with 61 completed deals totaling $427 million, compared to 43 deals worth a combined $166 million in 2013. It will be interesting to see how the marketplace evolves over the coming year; with that in mind, we decided to look at some of the VC-backed startups involved in wearables and break down which are poised for success.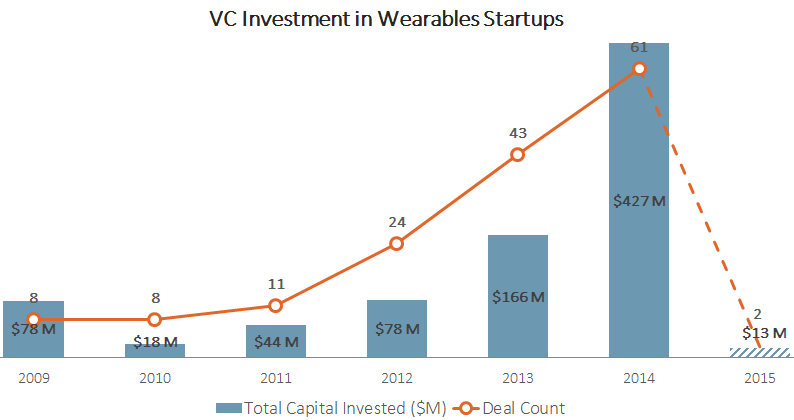 Below is a custom PitchBook data visualization of startups similar to Fitbit, a connected health & fitness platform that most recently raised $43 million of Series C funding at a $344 million valuation in summer 2013. The Company Similarity Index includes each company's Growth Score, a component of PitchBook Company Signals, which is used to measure a company's growth and traction within a market. Click on the image to interact with the data.
Going back to the overall wearables space, here is a select list of promising VC-backed startups:

Only a few companies currently exceed a minimum of 3% Growth Score, like Strap (which offers a cross-platform analytics SDK for wearable apps). Reducing the minimum to 1% brings up notables such as iRhythm Technologies, which offers a platform and device for long-term continuous cardiac monitoring. iRhythm snagged a pre-money valuation of $124 million with its Series E in May 2014. Looking at the data viz and table above, it seems health-focused wearables startups are the most valuable right now; it'll be interesting to see whether this trend will continue, or if products like the Apple Watch will pave the way for further expansion of use cases.
There's plenty more to uncover using our data on VC-backed wearables startups. For more insight into the space, contact us here.